Açaí Heart of Palm
Organic
Palmeiral is committed to the environment by using
sustainable harvesting practices. The extraction of the
fruits and palms has no impact on the environment since
it gives the plant new shoots, with future yield unaffected or
improved by current harvesting methods. In this process,
full integration between the human being and the environment
is established, at the same time that it serves as food and
source of income for local communities.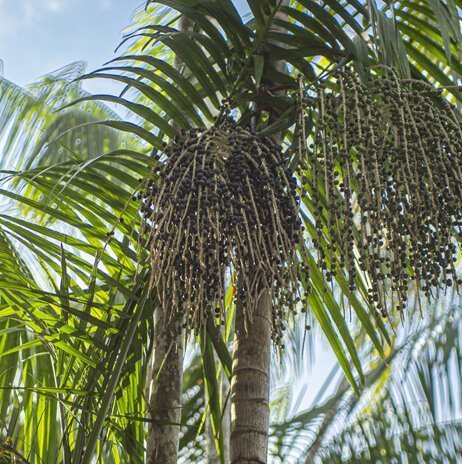 Social Impact
Palmeiral is also committed to the development of communities in the Amazonia region, by fostering production of small producers and offering them capacity building training related to the management and sustainability of hearts of palm. About 2,500 families were impacted by this project. Therefore, the company contributes to the social and economic development of the region.
Health
Benefits
---
Hearts of Palm are a good choice for those who take care of their health! Besides being delicious and possessing high nutritional values, they are organic, vegan, non-GMO, gluten free, no sugar added, no ascorbic, low fat and low calories.
Palmeiral is a Brazilian company with 22 years of experience in producing hearts of palm. With 8 factories located in the states of Pará, Amapá, Santa Catarina, and São Paulo and 90 employees, Palmeiral holds the main technology in this sector, from the planting, cultivating, producing and distributing nationally, in the retail and food service industry. Palmeiral produces hearts of palms collected from two different types of trees: Açaí and Royal Palm Tree. It has a production capacity of twenty thousand boxes of hearts of palm per month and more than 600 active customers, selling to on average 300 clients per week.
Palmeiral is registered with the U.S. Food and Drug Administration (FDA) and with the U.S. Food Canning Establishment (FCE). In addition, it stands out as the first Brazilian heart of palm producer that has obtained the international Organic Certification (certified by ECOCERT).
We are now prepared to enter the international market, and we are looking for partners interested in distributing our products, so we can together understand the needs and adaptations of each region.